Lola is eleven years old. She was born on the 5th of May and has three brothers (two of them twins). She has a dog at home called Joe Joe. She has really, very long blonde wavy hair and is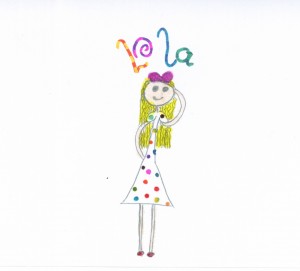 silky as silk from morning 'till night. She is a very pretty girl with salow skin. Her best friend ever is her cousin Molly and she has another friend called Bobby Salo.
Lola plays the fiddle/violin and a bit of the banjo. She taught herself Spanish when she was eight. Her favourite food is enchildas and goulash and she loves to drink a cold glass of orange juice.
She plays basketball and volleyball and is a really funny person to be with. She always sees the funny side of things. Lola doesn't like maths or anything with mayonaise in it, but she especially hates maths with mayonaise on it!.  Surprisingly enough, she loves to tidy her room and organise things.